Description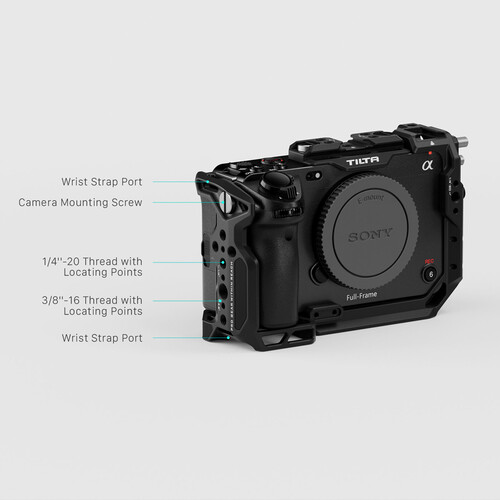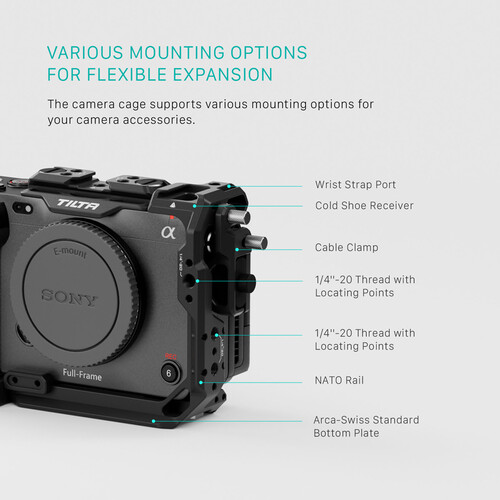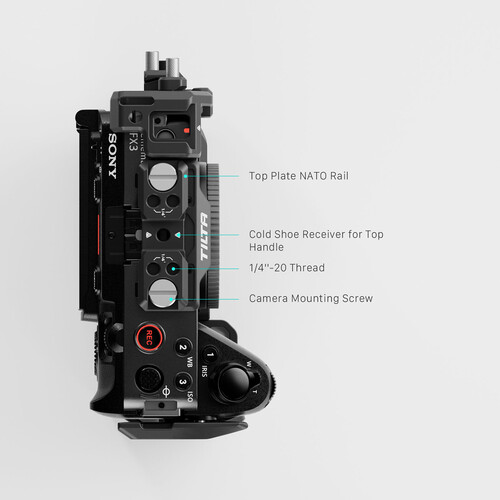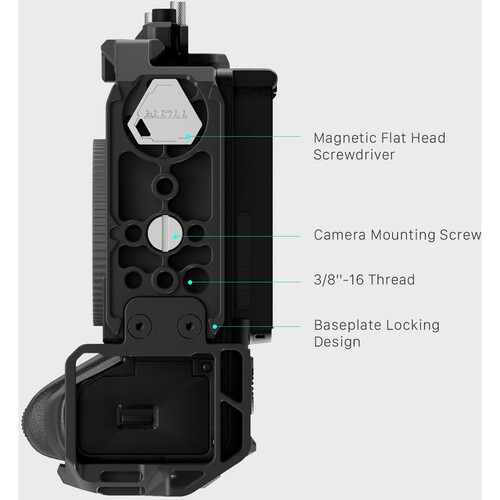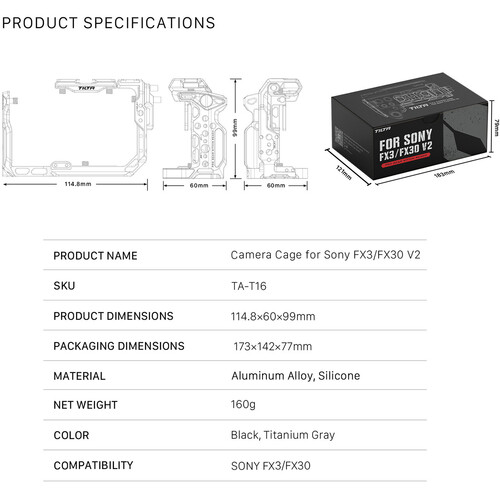 Tilta Full Camera Cage V2 for Sony FX3 & FX30 (Black)
Add protection and accessories to your Sony FX3 or FX30 digital cinema camera with this lightweight and modular Camera Cage V2 from Tilta. This updated model offers the option of full cage protection or a lighter-weight half cage suitable for gimbal use by removing its side L-bracket. The black aluminum cage maintains access to the camera's controls and features a removable NATO top plate that enables the use of the original XLR top handle or another handle.
Use the cage to mount a variety of accessories using the top plate NATO rail, the shoe mount, and the 3/8″-16 and 1/4″-20 threads with anti-twist locating pins. The cage also features an integrated Arca-style base for quick mounting onto tripod heads and gimbal mounts. It can be used in both horizontal and vertical orientations and also features a right-side handgrip, an HDMI cable clamp, and strap slots for an optional wrist or neck strap.
Sony FX3 cinema camera
Sony FX30 cinema camera
Original Sony XLR top handle
The cage can be configured for both full cage protection and a lighter-weight half cage form for gimbal use. The top module is individually removable and is compatible with the original XLR audio handle. The L-Bracket is removable and can be used as a half cage.
Multiple Accessory Mounts
Accessory-mounting options include a NATO rail, a shoe mount, as well as 3/8″-16 and 1/4″-20 threads with locating pins. The bottom of the camera cage features an Arca-type design for quick installation onto baseplates and gimbals.
The camera body can be secured via three mounting screws on the left, right, and bottom. The included cable clamp prevents pulling or disconnecting, and it mounts with a thumbscrew.
Tilta Modular 15mm LWS Baseplate Type III (Black)
Add this black Modular 15mm LWS Baseplate Type III from Tilta to your camera rig setup and expand your mounting options to accommodate a variety of optional rod-based accessories such as matte boxes and follow focus motors. The modular design provides multiple 1/4″-20 and 3/8″-16 mounting points and a removable Arca-type receiver that allows you to quickly switch between this baseplate and compatible gimbals like the DJI Ronin S series.
Compatible with Tilta standard dovetails, this baseplate can also host a wide variety of quick release plates via the multiple 1/4″-20 and 3/8″-16 threads on the bottom of the unit. Two LWS 15mm rod ports enable you to add optional 15mm rods to further enhance mounting possibilities, and the sturdy aluminum and steel construction ensures durability and reliability for filmmakers or videographers on the go.
Features a removable Arca-type receiver and universal 1/4″-20 mounting points
Attach optional 15mm rods to your camera rig for enhanced mounting possibilities
Easily slides and locks onto Tilta standard dovetails
Tilta Single 15mm Aluminum Rod (7.87″, Anodized Gray/Silver)
This Tilta Single 15mm Aluminum Rod is 7.87″ in length and anodized gray/silver. It is compatible with 15mm LWS and studio rod support clamps and chamfered to make it easier to slide rod-mounted accessories onto the end.